It takes a team of specialists to help manage Fabry disease symptoms.
Moving forward: Assembling your care team
The earlier Fabry disease is recognized, the sooner monitoring and management can begin. Since Fabry disease is progressive, monitoring your symptoms can help you understand how the disease affects your body.
Your doctors can tell you about therapies available to help manage your Fabry disease symptoms. Since most of the symptoms of Fabry disease are caused by the build-up of globotriaosylceramide (GL-3) within various organs of the body, it is often necessary to manage these symptoms on a system-by-system basis, consulting with specialists at different times for each affected organ. Your care team may include:
• Cardiologist
• Neurologist
• Nephrologist
• Gastroenterologist
• Audiologist or Otolaryngologist, or ENT
(ear, nose, and throat) specialist
• Psychologist, Psychiatrist, or
Mental Health Counselor
The importance of regular monitoring
It is important to stick to the regularly scheduled appointments with all of the physicians that your doctor recommends. Adhering to the recommended assessment schedule enables you and your doctor to monitor the progression of your disease and the effectiveness of disease management activities.
Keep track of your disease progression.
If you have been diagnosed with Fabry disease, or suspect you or a family member may have Fabry disease, consider speaking with a CareConnectPSS Patient Education Liaison to discuss your questions and concerns.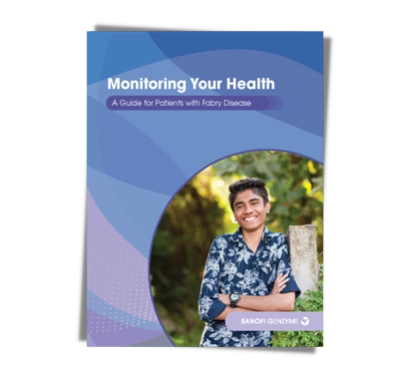 Sanofi does not provide medical advice, diagnosis, or treatment. The health information contained herein is provided for general educational purposes only. Your healthcare professional is the best source of information regarding your health. Please consult your healthcare professional if you have any questions about your health or treatment.