CareConnectPSS® Personalized Support Services
CareConnectPSS represents Sanofi's more than 35-year commitment to supporting the rare disease community. Your CareConnectPSS team will work closely with you and your healthcare providers to give you the confidential and personalized support you need. We support each patient's unique Fabry disease journey with dedicated Patient Education Liaisons and Case Managers who can provide one-on-one assistance through a range of resources, programs, and other support offerings.
CareConnectPSS Patient Education Liaisons (PELs)
Your CareConnectPSS Patient Education Liaison (also called a "PEL") can provide disease and treatment education on topics such as family trees, genetic inheritance, and genetic testing for your family members, if needed. Your PEL can also provide other resources for disease awareness to support you and your family.
CareConnectPSS Case Managers
Our CareConnectPSS Case Manager can provide insurance support, from claims to billing assistance, as well as assistance with connecting to resources that can help with out-of-pocket costs. Additionally, your Case Manager can assist with insurance changes related to your employment status, age, or marital/dependency status.
Information you provide will always be kept confidential.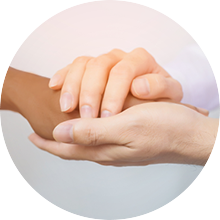 Contact a CareConnectPSS Case Manager
If you reside in the United States and would like to speak with a CareConnectPSS Case Manager in your area, please call:
8am until 6pm EST, Monday through Friday at:
1-800-745-4447 (option 3)
Or email info@CareConnectPSS.com
Spanish-speaking Case Managers as well as interpreters for other languages are available.
Frequently Asked Questions
Fabry disease is an inherited disorder. It is one of a family of hereditary diseases called lysosomal storage disorders that affect the way certain chemicals are processed in the body. Fabry is caused by an altered gene. A person who inherits this gene is unable to produce an enzyme commonly known as Alpha-GAL in amounts needed to do the job it is supposed to do. Alpha-GAL is one of several enzymes present in compartments in our cells called lysosomes. The enzyme's job is to break down a certain fatty substance, called globotriaosylceramide, or GL-3. Since a person with Fabry disease does not produce enough alpha-GAL, the GL-3 is not broken down, but instead builds up in the cells over time.
To learn more, watch the video

Fabry disease is found in roughly 1 in 40,000 to 117,000 people. Fabry disease can be hard to diagnose. However, Fabry disease can occur at an average of 100-1000 times more often in dialysis populations. Additionally, since Fabry disease is genetic, if one family member has been diagnosed, other family members could be at risk.

Most of the symptoms of Fabry disease can be attributed to GL-3 accumulation and the resulting damage to body tissues. Some symptoms that may occur throughout life include episodic pain crises, inability to sweat, recurrent fever, gastrointestinal distress, and heat or cold intolerance. More severe symptoms may arise as the disease progresses silently in the body.Learn more about Fabry disease symptoms

Yes. Fabry disease was once thought to affect only males. Females were previously told they were only "carriers," meaning they carried the gene for the disorder without developing symptoms. We now know this is not true. Research has shown that females with Fabry disease do, in fact, experience a wide range of significant symptoms. It is important for women with a family history of this progressive, potentially life-threatening disease to be monitored regularly and to speak to their doctor about appropriate medical care. Learn more>

Due to the way Fabry disease is inherited, symptoms vary more in women than they do in men. Most men with Fabry disease will experience the full range of symptoms. Symptoms in women can be highly variable, even within the same family. Women with the disease may experience symptoms as severely as men, they may have milder symptoms, or they may have severe symptoms in some organs but not others.Learn more about Fabry disease in women

Some women who have the altered gene will develop symptoms, while others will not. Each cell in a female's body contains two X chromosomes, but one is inactive or "turned off" through a normal process called X-inactivation. This process occurs randomly in cells while a baby is developing in the womb.

Each organ in a female's body has its own X-inactivation pattern. In a female who has the altered gene, one organ may have 60% of her healthy X chromosomes working, while another organ may have only 30% working. A female's specific X-inactivation pattern can cause her to have some symptoms of Fabry disease, but not others. It can also explain the variation of symptoms. Learn how Fabry disease is inherited
Additional Sanofi resources
Fabry disease videos
Learn more about other patients' experiences with Fabry disease. Explore our video library
Fabry Registry
Help advance the understanding of Fabry disease. Learn more
Family Letter
Communicating with family members about a Fabry disease diagnosis can be challenging. We have created a sample letter to help you get started. You can use this sample letter to get suggestions for how to write your own message to your family members. Or simply email the letter we have provided. When and how to share your diagnosis is something you may wish to discuss with your treating physician or your CareConnectPSS Patient Education Liaison.